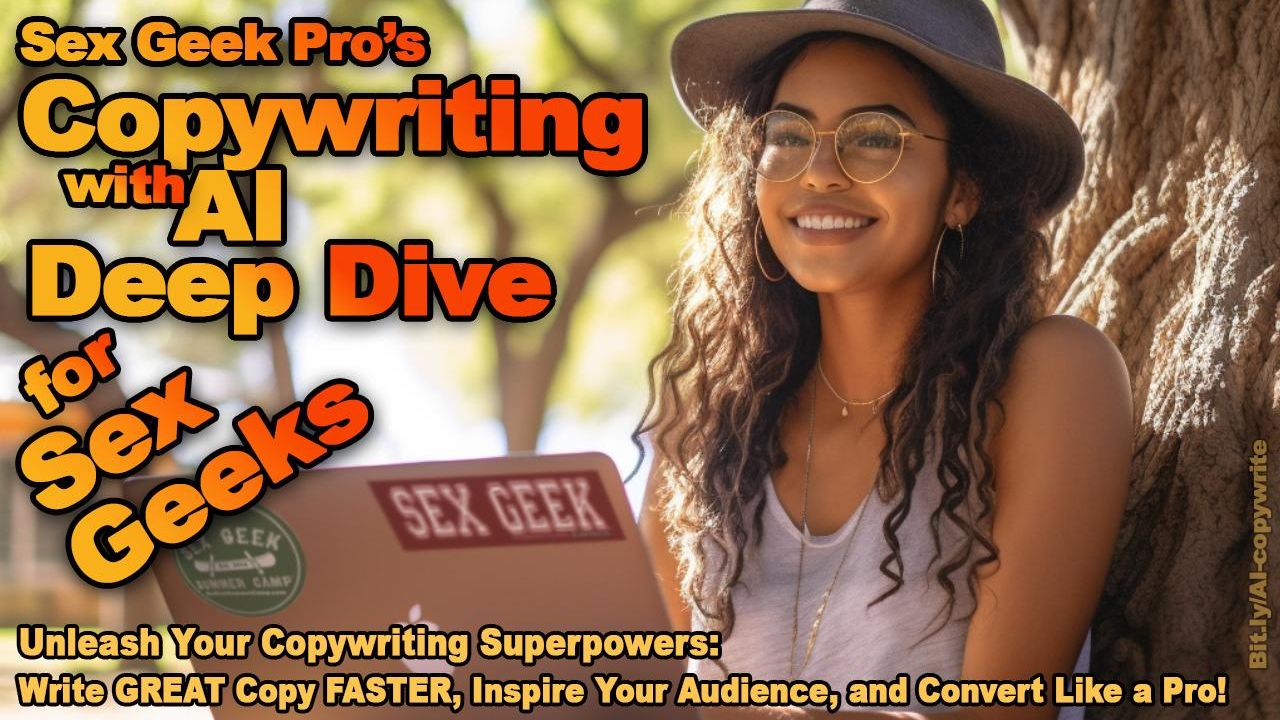 Copywriting with AI Deep Dive for Sex Geeks
---
Copywriting For Sex Positive Professionals: Leveraging Your Self-Expression and AI to Write Authentic Messages that Connect, Inspire, and Convert
Attention all sex-positive professionals and aspiring copywriters!
Get ready for an online weekend of laughter, learning, and unleashing your creative genius at the Copywriting with AI Deep Dive for Sex Geeks workshop on December 2nd and 3rd. Two extraordinary experts, Reid Mihalko from ReidAboutSex.com and Cathy Vartuli, will be revolutionizing your copywriting game.
In this engaging and informative class, you'll discover the power of persuasive writing while having a blast.
Reid and Cathy will guide you through the ins and outs of copywriting, equipping you with the skills to craft compelling content that resonates with your audience. But that's not all—prepare to witness the magic of AI as we show you how to save a staggering 70% of your marketing time by leveraging artificial intelligence to generate captivating copy for your next offering. (All while keeping your authentic voice!)
This workshop is not your typical dry, boring lecture. We've got friendly hot seats where you'll receive personalized feedback and support from your fellow participants. You'll become part of a vibrant community that nurtures your growth and success. Plus, we'll delve into the world of inspirational rather than painful marketing, allowing you to connect with your clients on a deeper level and create lasting impact.
We know what it's like... Feeling the passion and desire to contribute to the world in this tender and challenging area of sex-positive education, and wanting to make money doing the work you love. Yet facing that dread of knowing what to write about your offerings... The tight stomach, the confusion, the worry about choosing the right words and the right tone. And the horrible sensation of hearing crickets after you poured your soul on a piece of paper and then mailed it to the world... And no one answers.
The good news is that there are some basic skills and approaches to giving your voice power! And lightening the load your marketing takes on your life.
If you've ever found yourself staring at a blank screen, or cleaning closets rather than writing invitations to your next offering, you are in the right place!
If you've found yourself thinking:
I'm passionate about my work, but I struggle to find the right words to share the essence of what I teach. It's frustrating because I know I have so much to offer, but I feel like I'm not reaching the right audience or making the impact I know is possible!
It's overwhelming to see others in my industry succeeding while I'm stuck in the shadows. I know I have the skills and knowledge, but I can't seem to break through the noise and gain the visibility I need to have my business take off!
I'm tired of the struggle. It takes me hours to come up with a single sentence that feels right, and even then, I doubt its effectiveness. I need a simpler, more efficient way to share what I'm offering and how I can help... One that actually brings in paying customers!
I'm tired of being broke! Money worries keep me up at night. I'm passionate about my work, but I'm constantly stressed about how to make a living and pay my bills while staying true to my values and making a difference in the lives of others.
I feel like a hidden gem in my industry. I have so much knowledge and expertise, but it seems like my voice isn't being heard, and I'm missing out on clients and income while others get ahead!
If you're ready to take your marketing game to the next level, and stop struggling to fill your seats and make money, get your ticket today!
We'll be sharing ways to reach your audience in powerful ways, with a psychological understanding of why different approaches work, and how to use them for good!
These skills and understandings will serve you the rest of your life, and help your audience understand what you offer, and give them clarity on how you can help.
And let's face it, the AI genie isn't going back in the bottle! Using AI effectively can help you reach more people while saving a tremendous amount of time. Those who embrace this technology are going to go further than those who don't. Why not learn from people who care deeply about helping you keep your voice and authenticity while streamlining your workflow?!
We'll be meeting from 10am to 6pm, with an hour break for lunch, on Dec 2 and 3, 2023. If you follow the steps we give you, you'll leave with copy complete (sales page, email, and social media, along with video bullet points if you want to make videos about your project) for a course, event, or offering. Plus skills that will serve you a lifetime!
You will leave with:
Powerful Copywriting Skills: You'll become a master at writing engaging content that grabs attention, connects with your audience, and gets more people excited about what you offer. Go deeper than we can at Camp!

Effective Marketing Strategies: You'll learn practical techniques that actually work to reach your ideal clients, boost your visibility, and bring in more business.

Embracing AI with Confidence: Say goodbye to confusion! You'll gain the know-how to leverage AI tools that save time, automate tasks, and make your life easier, without any tech overwhelm. We Promise!!

Ways to Put More Money in Your Pocket: By improving your marketing skills and using AI effectively, you'll attract more clients, increase your sales, and ultimately boost your income. Cha-ching!

Time-Saving Techniques: We'll show you how to work smarter, not harder. With our streamlined processes and time-saving tips, you'll have more free time to focus on what matters most to you.

Supportive Community: You'll be part of a fantastic community of like-minded professionals, sharing feedback, collaborating, and cheering each other on. It's like having your own personal cheer squad!

Ready-to-Use Resources: You'll get access to practical resources, including templates, guides, and recommended tools. These handy resources will make implementing your newfound skills a breeze.

Lifelong Learning: The learning doesn't stop after the program. You'll have lifetime access to the course material, allowing you to revisit it whenever you need a refresher.
Join us for an unforgettable weekend filled with laughter, learning, and the art of copywriting. Don't miss this opportunity to become a master of words and AI, shaping a successful future for yourself and your clients. Reserve your spot at the Copy Writing and AI Deep Dive for Sex Geeks workshop today!

We are not likely to offer this class live again anytime soon- so get your ticket today!

This is normally a $297 class, and to help get you going in a powerful way, we're offering the Deep Dive for:
Or
What People Are Saying About Cathy and Reid
"Cathy is one of the most caring, nurturing facilitators I've ever encountered. With the Momentum program, we worked through the specific steps of creating the foundational elements of online business (writing bios, building lead magnets, etc.). Every step of the way Cathy created a safe container for us to be brave in sharing and giving feedback so that we ALL got stronger!"
~Leah Carey, Good Girls Talk About Sex
"About Reid's business coaching… Since I missed his workshop at my own conference (Sex Down South), Reid was sweet enough to do a condensed version and catered it, just to me. As he asked me questions, my inner flame lit up with the thoughts of my passion and how I can give my gifts of sexual education to the world. From this realization, Reid was able to give me amazing and practical advice to digitize my curriculum to create a more profitable platform. I've gone to many business classes, read a ton of business books, and I'm always looking for ways to enhance my craft. Reid was able to pull out what I needed in all of an hour! I will definitely be looking to him in the future; to not only keep me accountable, but help me bolster new and fruitful ways of fostering my passion and building on my income."
~Marla Renee Stewart, MA, Co-Founder of the Sex Down South Conference
"I have been a student of Cathy's 4 times now! Twice in person for week long intensive sessions and twice in virtual multi-week training courses. I keep coming back for more because I love Cathy's teaching style, her content and her genuineness. Cathy's Business Training Courses as well personalized feedback has helped me grow my business exponentially! Not only have sales gone up 100X since I first started by business, but I am also significantly more confident in what I do and offer to clients."
~Mason Luke of MasonLuke.com
"Reid Mihalko has the unique ability to be able to take big, overwhelming things and show you how to break them down into smaller, manageable chunks. He is great at seeing and articulating a "third" option whenever I am stuck in an either/or situation. He has changed my life numerous times and anything new he is offering I want front row seats for 'cause I know it's gonna be good!"
~Monique Darling of EverydayTantra.com
"I found working with Cathy very helpful. Her insights into how to use small steps in the building of a business really helped me to "chunk" my work, so it didn't seem overwhelming, it didn't need to get all done at once! That allowed me to take my time, work on the smaller projects in the order, and the time that I wanted to. I highly recommend working with Cathy if you're new (or old) to the sex education or therapy field and are looking to make new headway in your business."
~Erik W. House from lovemultipliescoaching.com
'Reid, I am in awe at your ability to conduct a group and transmit wisdom! It was thrilling for me to participate in the process. I can appreciate how much experience and practice went into getting the teachings distilled down into the bullet points, and your humorous presentation was brilliant!"
~Cheri, San Diego
"Cathy is an amazing, caring, considerate, impassioned human being. She has a warmth to her character that invokes an ease within me. That ease helps me shed light on the shadows of my resistance. She is inspiring and supportive. Her classes have been incredibly informative, carefully cultivated, and have had an immeasurable impact on my person and my business. I am motivated and confident in a way I never imagined. Cathy has given me the skills to focus and create action, where before I was drowning in doubt and uncertainty. She reels in amazing groups of folks who make the classes that much more phenomenal. My business and person will forever be grateful for what I have learned, and implemented thanks to Cathy's creativity and dedication to helping others reprogram their lizard brains."
~Susanna Beeman of ColofulAdvice.com
"No matter the topic, even if it was one I thought I wasn't interested in, I have always found Reid's presentations more than worth the time. He is always both highly informative and entertaining. He clearly knows what he's talking about, and unlike many other experts, he can also COMMUNICATE that knowledge well.
I highly recommend Reid both as educator and coach — I did go to him once with something I'd been stuck on for years, and was shocked at how much progress/change I was able to make with just one session. (I was able to stay unstuck after that, so didn't need to go back, but would not hesitate to do so with other problems.)"
~ Karoline
"I've taken lots of marketing and business building courses and Cathy excelled at providing a compassionate environment combined with the specific instructions and support needed to actually accomplish the important but sometimes daunting tasks involved in growing an online business. Highly recommended!"
~ Angela of TheArtOfSuccessForWomen.com
"I will take part in literally anything Cathy offers. I always feel incredibly supported and believed in. Cathy helps me believe in myself and my capabilities, which is rare and so incredibly helpful. Not only that, her constructive feedback is actually useful."
~Julia Sheldon of JuliaSheldon.com


ABOUT REID: Reid Mihalko (he/him) of ReidAboutSex.com has been called America's Favorite Sex Geek, as well as the Tom Hanks of Sex Education. Reid helps adults create more self-esteem, self-confidence, and greater health and accountability in their relationships and sex lives using an inspiring mixture of humor, personal stories, keen insight, and comprehensive sexual health information.

Reid's workshops and college lectures have been taught all over the world and attended by over 50,000 people. He has appeared in media such as Netflix' Chelsea Does... with Chelsea Handler, Oprah's Our America With Lisa Ling on OWN, the Emmy award-winning talk show Montel, Dr. Phil's The Doctors on CBS, Bravo's Miss Advised, Fox News, in Newsweek, Seventeen, GQ, The Washington Post, and in thirteen countries and at least seven languages

In early 2018, some very brave people came forward during #MeToo sharing harms that Reid had caused them. Reid stepped down from teaching and initiated a restorative justice-based accountability process to address his misconduct and make amends if and where possible. If your curious about learning more, this formal, year-long process along with Reid's apology and further resources is shared publicly at Bit.ly/reidaccountability.

Reid is also founder of Sex Geek Summer Camp, Sex Geek Conservatory, and Sex Geek School for Gifted Sex Geeks, which help sex educators and sex-positive entrepreneurs learn valuable business skills that allow them to reach more people with greater ease, transform more lives, and make a better living as sexperts.
ABOUT CATHY: Cathy Vartuli, PhD, (she/her) is a recognized Relationship and Sex Educator, bestselling author, and well-known guide for those doing authentic marketing. With a background as a PhD Engineer and Research Scientist, Cathy brings a unique blend of scientific knowledge and real-world experience with heart-centered, trauma-informed presence to her coaching and mentoring services.
As a sex-positive business and marketing coach, Cathy is dedicated to helping sex-positive marketers reach their full potential and make a meaningful impact in the world. She understands the challenges of having valuable skills and a powerful message but feeling too shy or awkward to share it...or feeling like the Internet against you.
Cathy is passionate about guiding individuals in finding their authentic voice so they can confidently express themselves, navigate the ever-changing world of social media, and create positive change.
Drawing on her research skills, Cathy discovered how heart-centered and inspirational marketing strategies can be used effectively in the realms of intimacy and sexuality. Her own journey is a testament to her expertise, as she transformed from someone hesitant to show her photo online to becoming a YouTube sensation with almost 5 million views and sharing her story and experiences with over 50,000 people. Her powerful presence on stage has earned her standing ovations.
Cathy has curated, promoted, and taught at numerous live events in the sex-positive education and marketing space, including Sex Geek Summer Camp, Sex Geek Design Studio, Sex Geek Conservatory, Speakers Kit, Freemium Creation Kit, Social Media Deep Dive for Sex Geeks and Sex Geek Sponsorship 101. She's organized and taught at International Virtual Festivals and Summits. She has also presented her marketing skills at prestigious conferences such as Woodhull Sexual Freedom Summit, CatalystCon, Converge Con, AASECT, and Sex Geek Summer Camp. She also coaches using Emotional Freedom Techniques (EFT) on ThrivingNow.com with Rick Wilkes. Her areas of expertise include Affiliate Marketing, Content Marketing, Copywriting, Storytelling, and leveraging the power of YouTube.
With her coaching, Cathy empowers sex educators to leverage their shyness and awkwardness as unique strengths. She helps them develop authentic connections with potential clients and inspires personal growth and transformation.
To learn more about Cathy and her transformative coaching and mentoring services, visit her website at www.TheIntimacyDojo.com.
Join us for an unforgettable weekend filled with laughter, learning, and the art of copywriting. Don't miss this opportunity to become a master of words and AI, shaping a successful future for yourself and your clients. Reserve your spot at the Copywriting and AI Deep Dive for Sex Geeks workshop today!

We are not likely to offer this class live again anytime soon- so get your ticket today!

This is normally a $297 class, and to help get you going in a powerful way, we're offering the Deep Dive for:
Or