From Premature Attachment To Slut Secure course
---
Finding yourself in over your head trying to balance this world of relationship, sluttiness, sexy possibility, love chemicals, and secure attachment?
Know someone who's caught feelings when they didn't want to?
Have you tried not to catch feelings only to have your stomach and heart tied up in knots after having great sex with great people?
Want to reap all the benefits of sexual community and mitigate drama (while also getting your needs met in healthy ways)?
Feeling overwhelmed by everything you don't know yet on how to navigate open relationships?
Finding a sex-positive community where you're encouraged to ask for what you want only to have your renaissance of frolicking & exploration explode in your face… It's not fair! But you're in luck because it's possible to become a "secure slut."
Misha Bonaventura and ReidAboutSex have been having loads of brain-sex to birth a workshop tailor-made for you, dear Bonobos!
We want you to have all the amazing & yummy things for you. Have all the sex, have all the friendships, and have all the love with all the ease. Mitigate the hard feelings, the presumptions, the premature attachment woes as you hone and celebrate your sex & intimacy superpowers!
In From Premature Attachment To Slut Secure, you'll learn how to…
Gain clarity in what you want and how to design boundaries that nourish & support you (and those you play with!)
Reach a deeper understanding of how New Relationship Energy, Crushing, and Imprinting look and work for you (and how to explain it clearly to others!)
Avoid premature attachment, and when you can't avoid it… At the very least, lessen its bitter hold on your heart!
Foster and maintain security in all your connections…
Navigate relationship escalation and de-escalation as conscious choices
Decipher your knee-jerk reactions when things "get complicated" and brainstorm productive ways to more consciously choose reactions that leave others (and you) feeling seen & respected rather than used and discarded or trapped and deceived.
A Quick Summary of Our 5 Weeks Together:
CLASS 1: I Like You,
Now What?
The challenge: You're allowed to like the folks you share sexy times with, but what are we supposed to actually do or not do about our feelings? Getting to know someone and negotiating what you're doing together is inherently an insecure process, so how do you get closer to feeling secure? And is there a way to do it when the other person isn't available?
In Class 1, we'll look at the various ways we might consciously or unconsciously attach to people, the differences between crushing, imprinting, and New Relationship Energy, what your early signs and patterns are that signal you might be attaching (or heading in that direction), and using what you discover to start mapping out what boundaries and agreements that can foster security even when those involved might be on different pages when it comes to wants, needs, and desires.
CLASS 2: Escalation Creep & What YOU Can Do About It!
The challenge: Why is it so hard for many of us to keep our casual sex casual? Why, when we end up having great sex and intimacy with someone who's pretty dang awesome, do our feelings tend to go from relationship with a little "r" to Relationship with a capital R?
Since intimacy often creates natural closeness and (possible) desire for more closeness, in Class 2, we will address Escalation Creep (and the shame and confusion that often comes with it). We will discuss the concept of Escalation Creep, why it's normal for so many of us, why creating Attachment Safewords can be helpful, and ways to normalize that liking great people doesn't "have to" lead to "something more."
CLASS 3: Falling into Security
The challenge: How do we create security when things are casual and how do we nurture security when things "get serious?"
In Class 3, we'll discuss why, sometimes, creating security in relationships and casual connections has more to do with what you leave out and 'trying less," than what you put into it or how hard you try. Concepts that we'll cover: How do we get back to security with each other, the use of Insecurity Safewords, how to make "secure requests," noticing when attachment wounding is getting in the way of your security, and much more!
CLASS 4: An Open Embrace
The challenge: In our quest to create securely attached relationships, can we only foster them with those whose attachment styles are secure? If our attachment styles are anything other than secure, are we doomed to never build healthy, securely attached relationships?
In Class 4, we will discuss how to create a secure connection beginning, middle and end with a lens of maintaining secure connections with all your people.
CLASS 5: Secure, No Matter What
The challenge: How do you figure out who should be/could be a Safe Haven, a Secure Base, or an Attachment Figure Relationship in your world? And what are the Red Flags to help us know when someone is probably a horrible fit?
In Class 5, we will introduce the H.E.A.R.T.s model from Jessica Fern's Polysecure to start mapping out the commitments and practices that will help you foster security, no matter what! We will also discuss ways YOU can figure out who's a good fit (or a bad fit) for being a safe haven, a secure base, and maaaaaybe an attachment figure relationship in your life.
BONUS RECORDINGS

: Access to past Slut Secure Q&A + Group Coaching Call Serie

s

In addition to the course classes, you get over 9 hours of Q&A + Group Coaching call recordings so you can dive deeper into the course content! Listen & watch real people ask their questions and get coaching fro Misha and Reid on their real-life relationship situations.
BONUS LIVE CALL SERIES

:

Redeemable Ticket to the next LIVE

Slut Secure Q&A + Group Coaching Serie

s!

If you join #SlutSecure in between the LIVE call series (which we run 1 to 2 times a year, BTW), you'll get a redeemable ticket for the next LIVE call series that you can cash in to join us! Do the recorded class & content now so you can start improving your relationships ASAP, then still get join us to dive deeper and get your questions answered when our next LIVE call series comes around! (You will be notified via email when the dates for the next live series gets announced.)
What People Are Saying About From Premature Attachment To Slut Secure...
"The class was great!! I learned so many things relevant to both my own life as well as my therapy clients, too. And the usage of breakout groups and journaling prompts were really spot on. Great class!"
~Dominique Kalata, LMSW

"I fucking loved the first class. I'm really bad at paying attention in zoom courses and stuff. I have major ADD and you guys really had my attention. So much of what you said was gold and I took so many notes. I'm excited about this material!"
~Anonymous, San Francisco

"Hi Reid and Misha, Just a quick note to thank you both for last night's class. I am so grateful to be in this course and have already received a tremendous amount of value from your teaching style and the way you both share your personal experiences as evidence of the awakening and breakthroughs available to us. Looking forward to next week! Blessings,"
~KN
ABOUT YOUR TEACHERS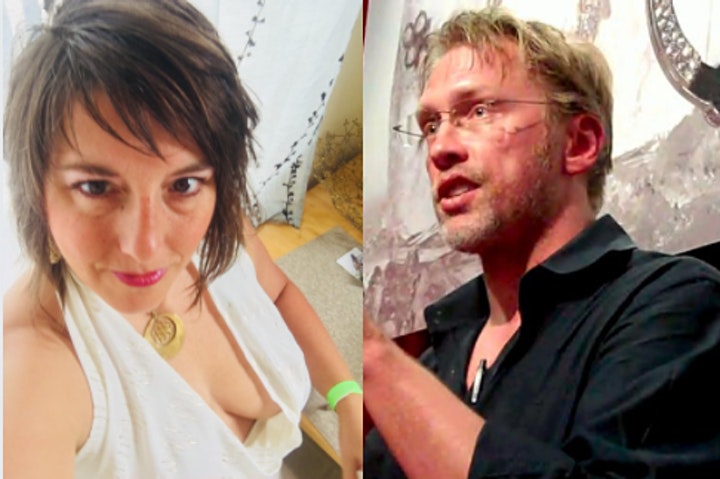 Misha co-produces Bonobo Network with William Winters. Alongside William, she is passionate about supporting sex-positive community and helping people create more pleasure for themselves. She teaches and consults individuals and communities to develop their consent culture with a harm reduction and transformative justice lens. Her private practice, Clearing Conversations, focuses on conflict resolution and communication coaching and she loves supporting the sex-positive community of the Bay Area and beyond in creating sustainable, long-term relationship building.
As seen on NETFLIX' "Chelsea Does…" alongside Chelsea Handler, Reid Mihalko of ReidAboutSex.com has been called America's Favorite Sex Geek, as well as the Tom Hanks of Sex Education. Reid helps adults and college students create more self-esteem, self-confidence, and greater health and accountability in their relationships and sex lives using an inspiring mixture of humor, personal stories, keen insight, and comprehensive sexual health information.
Reid would also like you to know that, in early 2018, some very brave people came forward during #MeToo sharing harms that Reid had caused them. Reid stepped down from teaching and initiated a restorative justice-based accountability process to address his misconduct and make amends if and where possible. The formal, year-long process along with Reid's apology and resources were shared publicly and can be found at TinyURL.com/reidaccountability
Reid's workshops and college lectures have been taught all over the world and attended by over 50,000 people. He has appeared in media such as Netflix' Chelsea Does…, Oprah's Our America With Lisa Ling on OWN, the Emmy award-winning talk show Montel, Dr. Phil's The Doctors on CBS, Bravo's Miss Advised, Fox News, in Newsweek, Seventeen, GQ, The Washington Post, and in thirteen countries and at least seven languages.
Reid is also founder of SexGeekSummerCamp.com, Sex Geek Conservatory, and Sex Geek School for Gifted Sex Geeks, which help sex educators learn valuable business skills that allow them to reach more people with greater ease, transform more lives, and make a better living as sexperts.
Comes with Reid's No-Risk, 30-Day, Money-Back Guarantee


Get Immediate, Lifetime, 24/7/365 Access with your purchase.
Includes Reid's No-Risk, 30-Day, Money-Back Guarantee
Test-drive the entire course for 30-days, and if it's not the right fit or the right content for you, simply ask for your money back within the 30-day window and receive a full refund, no questions asked!